MotorAve McQueen $4750
The McQueen is constructed using many of the same techniques used to make a LesPaul- but with chambering in the mahogany .
The average weight of a McQueen is 6.5 - 7.5 lbs.
Construction Overview
- CHAMBERED MAHOGANY BODY
- CARVED MAPLE TOP QUARTERSAWN MAHOGANY NECK, SCARF-JOINTED FOR STRENGTH AND INCREASED STABILITY
- CARBON FIBER REINFORCEMENT RAILS HOT HIDE GLUE CONSTRUCTION. ROSEWOOD OR EBONY 12"
- RADIUS FINGERBOARD WITH DOT INLAYS
- WIDTH AT NUT IS 1.68", 2.19" AT END OF FINGERBOARD
- 24.625" SCALE LENGTH, 22 FRETS
- TAPERED, STRAIGHT MORTISE NECK JOINT WITH EXTENDED TENON
- MEDIUM FRETWIRE .100" WIDE AND .050" TALL
- "PAINTED IN" BONE NUT
- SINGLE PLY WHITE BINDING ON NECK AND TOP
Standard Hardware
- CUSTOM, BRUSHED ALUMINUM PICKGUARD, T-ROD COVER, AND JACKPLATE
- KLUSON TUNERS TONEPROS AVR 2 BRIDGE AND TAILPIECE
- REFLECTOR CAP KNOBS
- WOLFETONE DR. VINTAGE PICKUPS
- 3 WAY TOGGLE SWITCH
- 2 VOLUME/2 TONE CONTROL LAYOUT WITH SWITCHCRAFT & CTS COMPONENTS
Finish Choices:
TRANSPARENT STAINS
- Cherry (bright or faded)
- SunBurst (may increase price)
PAINTED TOPS:
(natural back/sides/neck) BlackTop, Moss Green, Midnight Blue, Gold, Aged Pelham Blue
ALTERNATE FINISHES: $100+
Options
PICKGUARD:
- Black plastic $0
- Aluminum $0
CHOICE of PICK-UPs:
- Humbuckers (Wolfetone Dr. V's)
- P-90s (Wolfetone or Lollar)
INLAYS:
- Aluminum Dots $0
- MOP block inlays $250
- MOP Trapezoid inlays $250
BINDING:
Price depends on configuration.
MISC:
Gold Hardware +
Custom HardShell Case $400+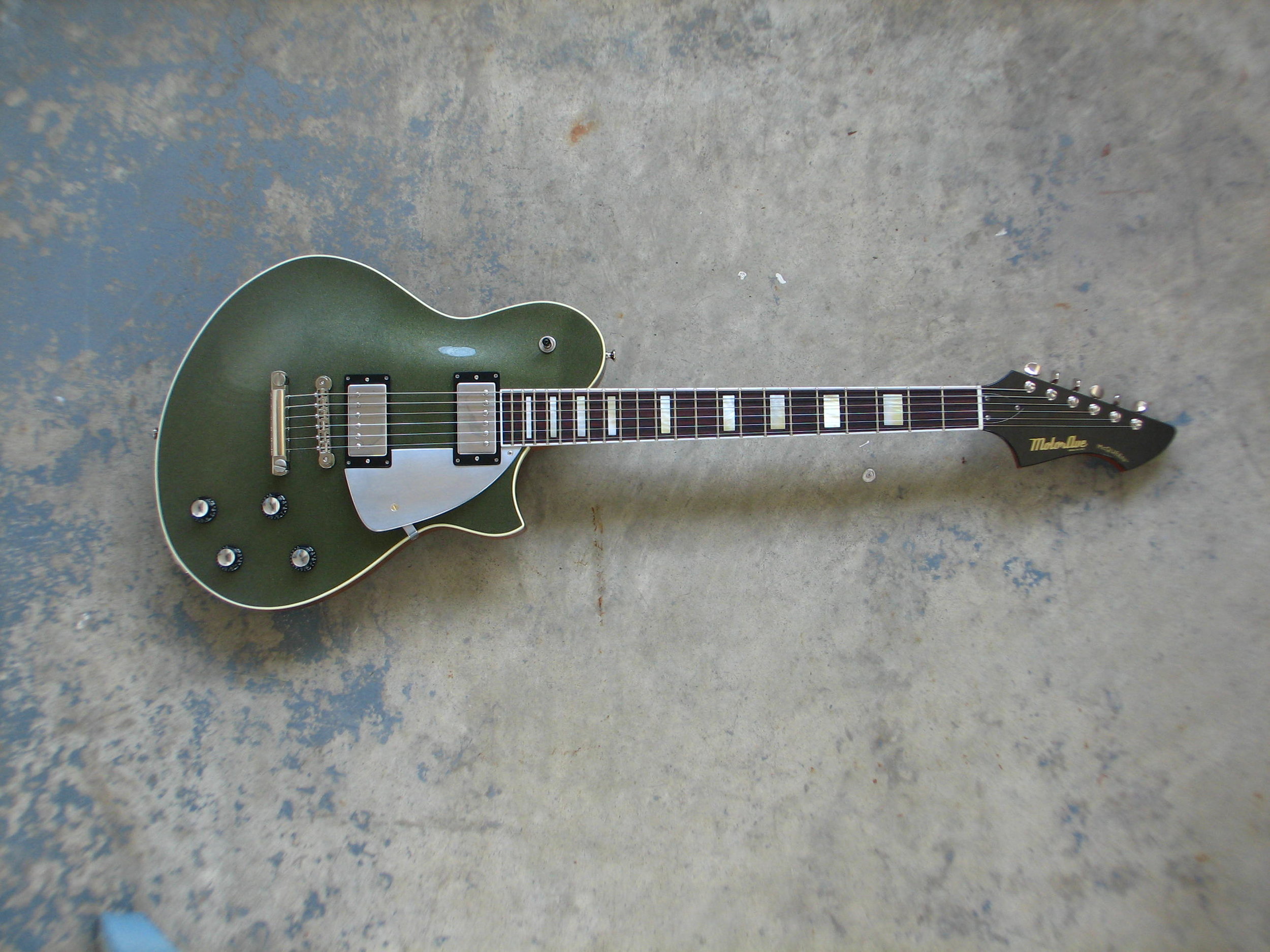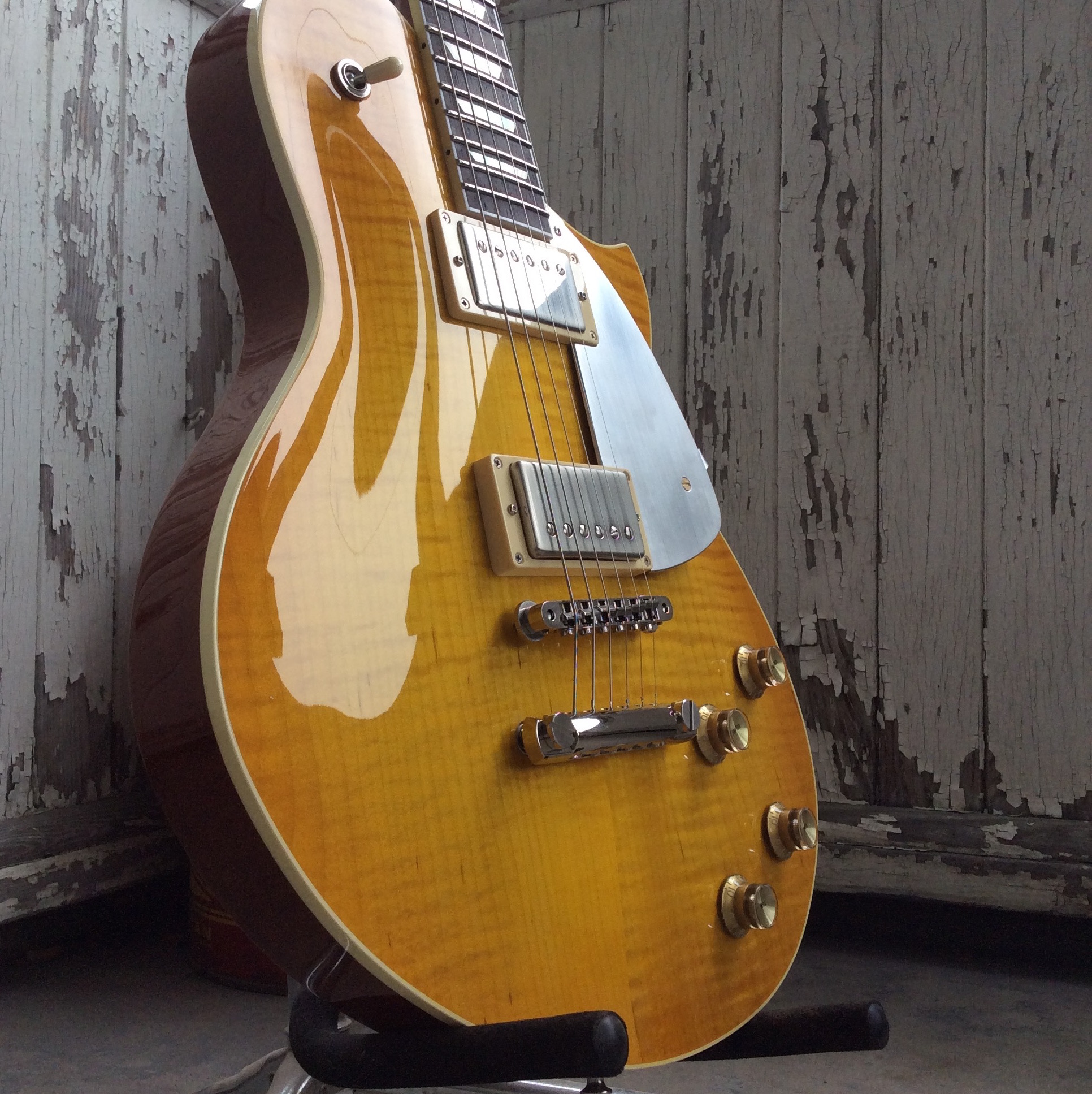 Design Notes:
When Mark set out to make a maple-capped guitar he decided the basic sound elements had to be there.. mahogany body & neck, eastern maple cap, TOM bridge and stud tail, humbuckers, and the same control layout as the classic, LesPaul. Of course he had to screw with the look, so he incorporated an old design and melded it with the basic LP shape, adding a 6-in-line headstock just to enrage the purists. (He's like that.) And surprisingly.. it worked! The McQueen is not a carbon copy of the originals, but it sounds quite a bit like them when the right pickups are used. It's a smaller, more focused sound, which is great for playing blistering solos and low register riffs. Because you're essentially 'muting' the guitar by laminating it, the result is often a less resonant, more controllable sound. Mark added tone chambers to his design, because he wanted a touch more resonance, but it's still makes familiar noise.